Diwali, the festival of lights, is a time of joy, celebration, and togetherness. It's an occasion when families and friends come together to create lasting memories. And what better way to do that than by looking your best in stylish and sustainable outfits? In this article, we'll explore 7 Diwali outfit ideas that combine the richness of Indian tradition with contemporary style, all while keeping sustainability in mind.
1. The Classic Silk Sari with a Modern Twist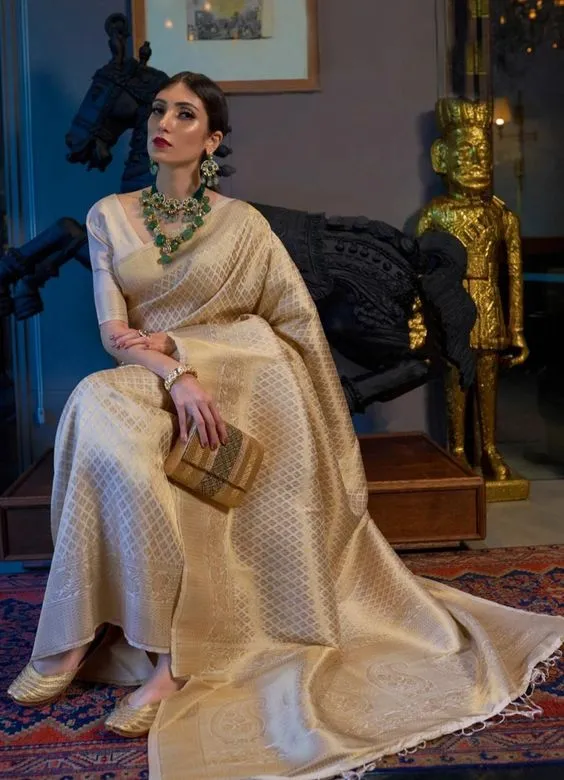 The timeless elegance of a silk sari never goes out of style and therefore it is at first on Diwali outfit ideas. Opt for a handwoven silk sari in deep, jewel-toned colours like emerald green, royal blue, or deep maroon. To give it a modern twist, pair it with a contrasting blouse in a contemporary cut or style. If you're feeling bold, experiment with prints and textures, like a Banarasi silk sari with metallic accents. This classic ensemble not only pays homage to tradition but also supports local artisans and their sustainable practices.
2. Sustainable Silk Alternatives
For those who prefer a cruelty-free and eco-conscious approach, there are sustainable silk alternatives. Tencel, bamboo silk, and organic cotton are great options that mimic the luxurious feel of silk while being more environmentally friendly. Look for outfits made from these materials, such as Tencel kurtas or bamboo silk lehengas. They are not only comfortable to wear but also reduce the carbon footprint of your outfit.
3. Contemporary Kurtas with Traditional Embroidery
Kurtas have become a fashion staple, offering comfort and style. For a Diwali outfit that effortlessly combines tradition and contemporary, go for a kurta with intricate traditional embroidery work. Think mirror work, zardozi, or Phulkari. You can pair it with classic churidar pants or even contemporary palazzos. Not only does this give a nod to Indian craftsmanship, but it's also a versatile choice for various occasions.
4. Sustainable Statement Jewelry
Don't forget about the jewelry! here are some trends for the coming season. Sustainable jewelry options are not only beautiful but also ethically sourced. Opt for pieces made from recycled materials, like upcycled silver or gold. These can be statement necklaces, earrings, or cuffs. The intricate designs on these pieces celebrate Indian craftsmanship while promoting a sustainable approach to fashion.
5. Lehenga with a Sustainable Twist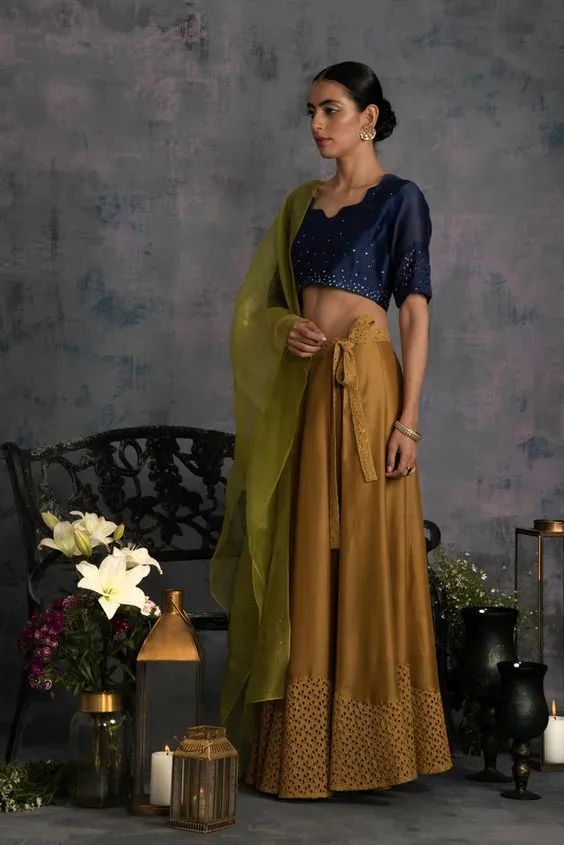 Lehengas have a special place in our hearts during festive seasons. Consider renting or buying a second-hand lehenga to reduce waste. You can then add your own twist by pairing it with a sustainable blouse. For example, a crop top made from upcycled fabric or a blouse with sustainable embellishments. This blend of traditional and modern elements not only creates a unique look but also champions sustainability.
6. Handcrafted Footwear
To complete your Diwali look, pay attention to your footwear. Handcrafted juttis or mojaris, made by skilled artisans, add the perfect traditional touch to your outfit. These are not only comfortable but also a testament to India's rich heritage in shoemaking. Opt for pairs with sustainable materials and ethical production practices, supporting local craftsmanship.
7. Mix and Match for a Fusion Look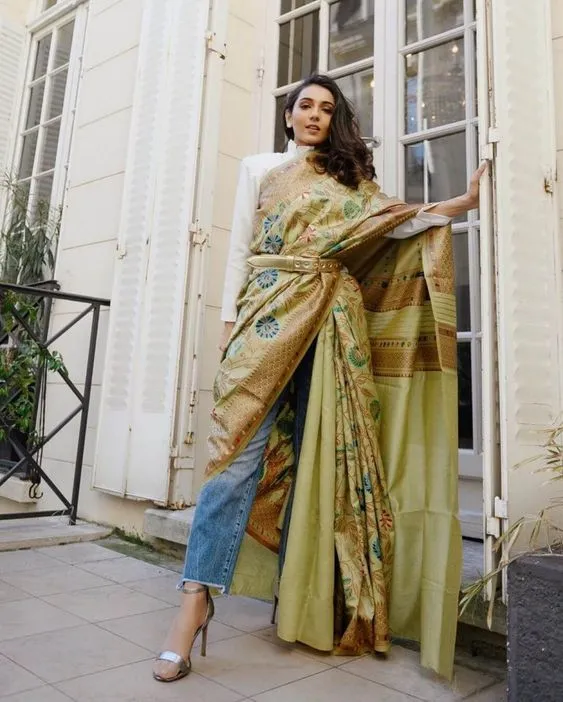 Why limit yourself to just one style? Mix and match traditional and contemporary elements to create a fusion look that's truly unique. Drape a saree and compliment with a belt. Pair a traditional kurta with jeans or dhoti pants with a trendy top. The key is to balance the ensemble, ensuring that both elements shine through. This not only reflects your fashion-forward mindset but also supports the idea of a sustainable wardrobe where each piece can be worn multiple ways.
Incorporating sustainability into your Diwali outfits is not only about the materials but also about making mindful choices.

Consider these tips:
Invest in Quality: Choose pieces that are durable and timeless, so they can be worn on various occasions.
Support Local Artisans: Buying from local artisans not only promotes traditional craftsmanship but also reduces the carbon footprint of your outfit.
Repurpose and Recycle: Consider reusing or recycling outfits from your wardrobe, giving them a fresh spin with accessories or minor alterations.
Eco-Friendly Accessories: Opt for eco-friendly accessories like biodegradable bindis or natural fiber scarves to complement your look.
In conclusion, your Diwali outfit can be both stylish and sustainable. By making thoughtful choices, you can celebrate tradition, champion local artisans, and be a conscious consumer. So, this festive season, let your fashion choices illuminate not just your appearance but also your commitment to a better, more sustainable future.
This Diwali, light up your world with style and sustainability and let your outfit reflect your values and love for India's rich heritage.

Happy Diwali!